Site created August 16, 2005 - By Joshua Spencer
Contemporary Issues Science Africa and More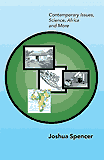 Kindly click on image for detail.
Site created August 16, 2005
Site created August 16, 2005

I currently reside in Toronto,
Canada
and I am hopeful that this medium will also assist me in meeting some quality associates as well.
I must hasten to state that I was born and grown in
Jamaica
and do have dual citizenship with both
Canada
and
Jamaica
. As a consequence, this website will undoubtedly also incorporate matters related to my homeland.
Finally, I must thank you very much for having visited. If you enjoy the numerous bits of materials on this website, please don't keep it to yourself. Spread the news. I made this site to share with the world!
Thank you.